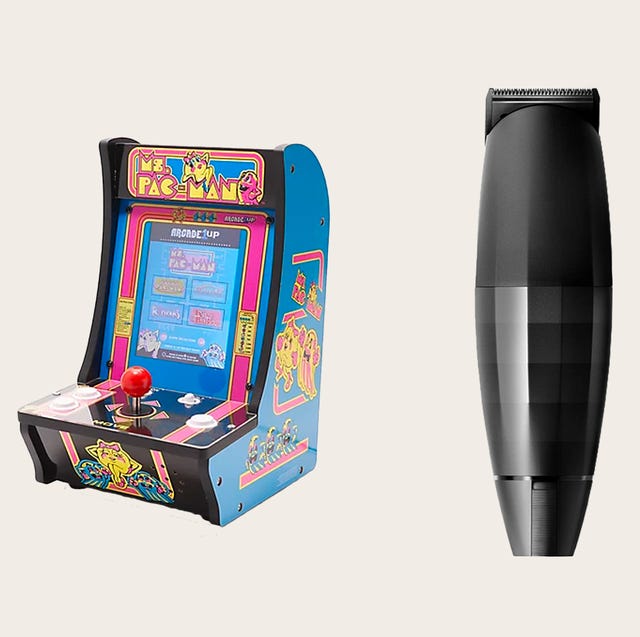 When you're on the hunt for the perfect presents for the guys in your life, what's the first thing you consider? Their personalities, of course. Have a co-worker who is an ace in the kitchen? Then a DIY sushi kit might be the answer to his holiday wishes. Is your cousin always styling his killer curls? A hair product that plays up his natural texture will be his go-to. Is your dad a frequent flyer? Nab him some packing cubes to make his jet-setting life easier. Whether he's all about whipping up a cocktail, hitting the trails, or his self-care grooming routine, we've got a great gift for every guy's interest this holiday season.
Advertisement – Continue Reading Below
1
FOR THE BOYFRIEND WHO LOVES A CLEAN SHAVE
Skin Essentials Gift Set
You can't blame anyone for loving that smooth skin sensation. That's what makes the Bevel Skin Essentials the perfect present for him. The formulas contain witch hazel, tea tree oil, and niacinamide to hydrate and balance natural oils for a smoother, even complexion.
2
FOR THE DAD WHO IS A FREQUENT FLIER
Monos Compressible Packing Cubes
Though he loves the journey, he may not love the packing part. Compressible cubes are a gamechanger that will make the task less daunting—saving space and his sanity. This set of four fits in all carry-on suitcases and will keep his staples from getting scrambled. The mesh tops make things easy to remember what's in each and provide ventilation (key for the return trip, when those socks are bound to be stinky).
3
FOR THE PARTNER WHO FANCIES HIMSELF A MIXOLOGIST
Samuelworld Ice Cube Trays
The right ice cubes can make a great cocktail even better. This tray will let him create four large ice balls and two jumbo square ice cubs at once that are just the perfect size and shape. Actual bartender sold separately.
4
FOR THE UNCLE WHO WOULD RATHER BE CAMPING
Portable Campfire
Whether he's deep in the woods, on the beach, or just in his backyard, he'll get a kick out of this portable campfire. It has all of the things everyone loves about a fire pit—a warm flame, a spot to make s'mores—without the drawbacks, like stinky smoke and embers that won't die out. He just has to strike a match or use a lighter to keep this wood-free fire going for three to five hours.
5
FOR THE BROTHER WHO IS OBSESSED WITH HIS BEARD
Bevel Beard Trimmer
For guys who are taking their beard grooming seriously, any old trimmer won't do. That's where this one comes in. Everything about the tool screams luxe, from the soft-touch grip to the 360-degree non-slip handling to the tool-free adjustments. He'll get a clean, smooth shave that minimizes bumps and irritation.
6
FOR THE MAN WHO CAN'T GET ENOUGH OF HIS GRANDKIDS
Createry Store Personalized Film Roll Keychain
You can't go wrong with a personalized present, especially one this charming. Choose the best pics of his grandkids and add them to this old-school roll of film keychain so he'll always have them with him. 
7
FOR THE COLLEGE PAL WHO LIVES TO TAILGATE
Chill Beer Flannel
Grab a six-pack of his favorite beer and dress it up in these charming Chill Beer Flannels. The fuzzy plaid zip-up jackets are just as functional as they are fun, thanks to two layers of waterproof insulation, which will keep his hands warm and drinks cold. Check, check.
8
FOR THE COUSIN WHO LOVES HIS CURLS
2 in 1 Pomade
Show him you appreciate his great head of hair and beard by gifting the Bevel 2 in 1 Pomade. The twofer sculpts while fighting frizz. What's the secret? Sweet almond oil, shea butter, and coconut oil. 
9
FOR THE NEPHEW HOOKED ON VIDEO GAMES
Arcade1Up CounterCade 5 Game Retro Tabletop Arcade Machine
Bring the arcade to him with this throwback tabletop machine (it even has the original artwork). Plenty of old-school games are pre-loaded, including Pac-Man, Frogger, and Ms. Pac-Man.
10
FOR YOUR FOODIE CO-WORKER
DIY Sushi Kit
Neither an apprenticeship in Japan nor culinary school is required to make your own sushi, thanks to this kit. He'll learn to roll his own with the included instructions and recipes, which even have tips on sushi culture and etiquette. Sushi rice, rice vinegar powder, nori, sesame seeds, wasabi powder, and bamboo rolling mat complete the set.
This content is created and maintained by a third party, and imported onto this page to help users provide their email addresses. You may be able to find more information about this and similar content at piano.io
Advertisement – Continue Reading Below