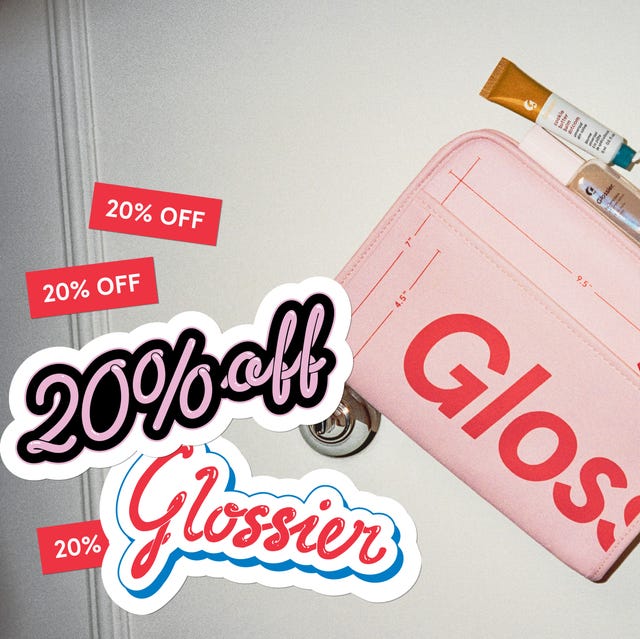 Glossier
Whether you've always wanted to try Gen Z's favorite brand Glossier or you're a longtime fan looking to restock, now's the time to break out your credit card and get to shopping. From November 25th till the 29th, everything on Glossier's website is 20% off. This includes gift-worthy sets and even merch, not to mention all your favorite products to enter 2022 looking dewy and youthful. Refresh your stash of Boy Brow or Olivia Rodrigo's favorite Ultralip. Either way, this discount is too good to pass up.
Treat yourself to a congratulatory gift for getting through 2021, or complete a little holiday shopping ahead of the December mayhem. This sale has gifts for everyone on your list, like matching Balm Dotcoms lip balms for you and your BFF; or The Beauty Bag for your partner's mom to keep her beauty essentials in. Below, find the 17 best items from Glossier's Black Friday sale that you should buy immediately before they sell out.
Advertisement – Continue Reading Below
1
Boy Brow
Bushy brows are back, and this is the cult-favorite tool to cheat what you might not be born with naturally. It's truly a one-swipe wonder. 
2
Embroidered Soft Sage Hoodie
Pair your new beauty look with this just-released cozy Glossier hoodie. It's the best thing to wear while working from home or enjoying a nice glass of wine at the end of the day. 
3
Futuredew
Cheat a dewy glow with this bottle of liquid gold. It's a primer, it's a highlighter, it's a TikTok trend you should be following.
4
Ultralip
It you want a glossy color on your lips without the upkeep of an intense lipstick, this tinted lip balm is the product to invest in. Plus, Olivia Rodrigo is obsessed with it, and we should all trust her judgment.
5
Balm Dotcom Trio
Chapped skin season is upon us, which means you need a heavy-duty product that can handle soothe your cracked lip woes. This bundle of three balms, all in fruity flavors, will take down dryness on your mouth, cuticles, or anywhere else that needs moisture. It's the best gift you could give yourself–or a friend, if you're feeling generous.
6
Lash Slick
This mascara is beloved by many, and you could join the rank of devotees. It doesn't smudge, budge, or make you look like a raccoon by the end of the night.
7
Milky Jelly Cleanser
Take off your day the right way. This cleanser not only melts away makeup, but it leaves your skin feeling and looking silky smooth in the process.
8
The Skincare Edit
Go all out with this incredible bundle. If you're a good friend, you could get this for the Glossier stan in your life. But personally I think I'll be buying it for myself.
9
Priming Moisturizer Rich
Lightweight moisturizers won't cut it over the next few months. Use this thick cream as a base for makeup, or whenever your skin needs a moisture boost. It will leave your skin feeling nourished instead of a radiator-induced desert.
10
Glossier You
The Holidays are a great time to invest in a brand new fragrance. Enter 2022 smelling like…yourself! Only way better, thanks to notes of ambrette seeds and iris. 
11
The Essential Edit
If you're a Glossier newbie, this kit has all their bestsellers to get you acquainted with the brand. The combination of makeup and skincare goodies are the only things you'll need for a dewy new year.
12
Solution
Who else needs a skin refresh? This gentle exfoliating treatment, which is laced with glycolic, salicylic, and lactic acids is great at treating everything from acne to dull skin. A sweep a day will keep the dermatologist away.
13
Pro Tip
The hunt for the perfect liquid liner could take years. But as a cat-eye connoisseur I can safely say that Glossier's version is one of the best. It's easy to apply, not easy to smudge, and will last through every Holiday party. 
14
The Makeup Set + The Beauty Bag
A great makeup bag is like a great partner: It will last years, and help carry some of your burdensome baggage. This case comes with some of Glossier's bestsellers including Cloud Paint, Boy Brow, and Lash Slick—so you have all of your essentials in one place. 
15
Universal Pro Retinol
If you're looking for a full skin revamp, it's time to add a retinol to your routine. Whether you're a newbie to this ingredient or you've been slathering on retinol for years, Glossier's version is ultra-hydrating and effective–even for sensitive skin.
16
Boy Brow + Balm Dotcom + Futuredew
A no-makeup makeup look depends on using the right products, and this trio is it. With a dewy base, bold brows, and a slight tint of color on the lips, you're ready to look like your gorgeous self.
17
Hand Cream
Drying hand sanitizers and endless washing–not to mention the cold weather–means you'll need hand cream on standby. Not only is this option ultra-hydrating, but it'll be a chic addition to your purse.
This content is created and maintained by a third party, and imported onto this page to help users provide their email addresses. You may be able to find more information about this and similar content at piano.io
Advertisement – Continue Reading Below